Podcast: Play in new window
"Finally the tables are starting to turn" — Tracey Chapman
Revolution: a drastic and far-reaching change in ways of thinking and behaving…
That's the revolution I'm talking about.  Real people – the hard working, wage earners, parents struggling to feed, clothe and house their children, young people trying to get a foothold in the world, the oppressed, the poor, the newly homeless, the chronically unemployed, the middle class — are sick and tired of making the sacrifices to pay for the mistakes of the wealthy who keep failing upwards and getting richer.
It's time for those with the bulk of the money to pay their fair share of taxes.
The Republican party claims they're trying to erase the deficit by cutting much-needed services to US taxpayer/citizens while at the same time giving massive tax cuts and benefits to the wealthiest individuals and corporations who already use every sneaky trick and loophole to avoid paying taxes.
While they're standing in the welfare lines
Crying at the doorsteps of those armies of salvation
Wasting time in unemployment lines
Sitting around waiting for a promotion
The people in the UK got fed up, and a movement to bring attention to the fact that the biggest corporations are also the biggest tax dodgers.  They call it UK Uncut, and it spread like wildfire throughout the nation.
If you haven't already, read Johann Hari's brilliant piece in The Nation that tells the history of UKuncut that inspired Carl Gibson, a young man in Mississippi to kickstart USUncut!
(Click here to listen to my interview with Johann Hari from Tuesday morning.)
Don't you know you're talking about a revolution
It sounds like a whisper
And finally the tables are starting to turn
Talking about a revolution
I've never organized an action before… but it's time.  I'll be participating in the first day of action with US Uncut on Saturday afternoon.  Since I'm new at this, I'm bringing along my favorite activist, David Swanson.
If anyone knows how to do an action, it's him!  The author of War is a Lie was already scheduled to be in Boca Raton for a book signing event (along with Nicholas "Sandy" Davies, author of Blood on our Hands).   After his event, from 3-5 pm, we'll all head about 1/2 mile down the road to a Bank of America branch to stage a protest.
Bank of America is the first target of US Uncut:
Despite ruining the economy with their reckless greed, Bank of America has consistently avoided any form of accountability to the American taxpayer. In fact, in 2009, Bank of America actually received a net tax benefit. Yes, last year, the federal government gave Bank of America $2.3 billion. That money alone could almost completely cover the proposed $2.5 billion cuts to the Low Income Home Energy Assistance Program (LIHEAP), which helps low-income families pay their heating and cooling bills and affects 34 million households. Bank of America is the largest bank and 5th largest corporation in the country, holding over $2.2 trillion in assets, and yet it pays less in taxes than the average American household, which made between $35,400 and $52,100 and had an effective tax rate of 14.2%.

We pay our taxes, why don't they?

On February 26th, citizens across the country will be targeting Bank of America branches and peaceably but forcefully showing them that they can't get away with such egregious tax-cheating.
Both Carl Gibson of USUncut and David Swanson will join me during the first hour of today's show.  In hour two, after a news update from TRNS, John Fugelsang joins me to end our week with some laughs and discussion about what's going on in the world…  It's an important day in a very important time in our history.
Poor people are gonna rise up
And get their share
Poor people are gonna rise up
And take what's theirs

Don't you know you're talking about a revolution
It sounds like a whisper
Let's turn this whisper into a tidal wave!
And a postscript.  Jasiri X said he'd write a song for the 99ers… well, he rolled it all into one brilliant video:
Podcast: Play in new window
People all over the world are finally awakening from their slumber. They're saying no more to tyrannical rule, oppression, and inequality.
Beginning with a fed-up produce vendor in Tunisia who set himself on fire, people are standing up for their rights as part of the human race.  From Tunisia to Egypt, and on to Libya, Bahrain, Iran, Yemen, Iraq… people are empowered, and saying enough is enough.
But the protests have been brewing throughout the European Union for a while now. We've watched the masses take to the streets in national strikes in France. And those who've been paying attention have seen the people fighting back in Great Britain too.
Last Thursday, I told you about the UK Uncut movement.  What began as a small group of friends discussing the corporate tax dodgers, and their complicity in the nation's financial woes turned into a country-wide ongoing protest against the companies who won't pay their fair share.
The movement was brought to light here in the US by journalist Johann Hari, who wrote "How to build a progressive tea party"  and the follow-up, " A Ten-Step guide to Launching US Uncut" for The Nation. Johann will be my first guest this morning, right at the start of the show, to tell us about the impact UK Uncut has had, and where we might be headed over here.
A young man in Mississippi, Carl Gibson, read those articles and decided to step up and -with the help of the organizers in the UK – launch US Uncut!  In one short week, US Uncut already has 30 actions scheduled around the country for Saturday 2/26 – the first official US Uncut Day of Action, and quite a few more set up for other days.
I even scheduled one in Boca Raton for the afternoon of the 26th (immediately following David Swanson's event for his book "War is a Lie" (he'll join me Thursday morning to talk about it).
Of course, democracy is struggling to stay alive here at home… most visibly in Wisconsin, where tens of thousands have taken to the streets in Madison to protest the attempt by the new dictator governor to bust the public employees unions.
It's very disheartening to scan the television dial and not see any coverage anywhere.  I was able to watch the revolution unfold in Egypt, almost in real-time thanks to Al Jazeera, Free Speech TV and LinkTV, but can't get similar coverage of these protests happening here in the USA!
Thankfully, we have some intrepid journalists on the ground covering what's happening in Madison. Mike Elk is a third-generation union organizer and labor journalist based in Washington, D.C. He writes for Harper's Magazine, the American Prospect, the Huffington Post and Campaign for America's Future and has appeared as a commentator on CNN, Fox News, and NPR, and he'll bring us up to date on the latest from ground zero of the labor movement in the US this morning.
After a news update from TRNS, we'll check in with The Political Carnival's Gotta Laff to talk about some of the stories you might otherwise have missed.  Here's some of what Laffy brings to us today:
And Laffy's readers have contributed to a new "Blunt" webisode, this one entitled "Union(s) Busting out All Over"

Podcast: Play in new window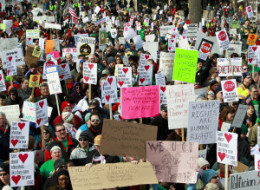 Never in my life have I had such a strong desire to be in Madison, Wisconsin as I do today!
Honestly, I was happy to watch the events in Egypt unfold live on television, and talk about what was happening with my new friend Marwa Rakha - whose child will be born in a country populated by people who've taken part in a peaceful revolution and are heading toward freedom.
As we were watching those brave Egyptians take to the streets, I was wondering what it would take to get Americans off of our lazy asses to stand up for our freedoms.  For the people of Wisconsin, apparently it was the hubris of their newly elected dictator governor Scott Walker, who wants to bust the unions.
Yesterday, I was joined briefly by John Nichols of The Nation, who happens to live in Madison.  Obviously, he's right in the middle of it all, but he filed this piece- "What's Disgusting? Union Busting!" Chant Wisconsin Crowds that Swell to 30,000 last night.
I happened to watch The Ed Show on MSNBC last night,and I'm glad I did.  Ed Schultz devoted practically his whole show to the ground zero of the American fight for democracy, and is headed to Madison today to broadcast his show tonight.  Good for him!  I'll be watching. Here's the video, which everyone should watch. And a note to Democrats: Pay attention to the Teddy Kennedy clip and learn something!
Visit msnbc.com for breaking news, world news, and news about the economy
Today on the show, we'll talk about how we can keep the momentum going.  I'll read some excerpts of another article from The Nation. This one, titled "How to build a progressive tea party"  and the follow-up, " A Ten-Step guide to Launching US Uncut" written by Johann Hari, tells about the UKuncut protests in Great Britain.  The similarities between what the Brits were going through (and the Egyptians, to some extent), and what we're facing here with corporation not paying their fair share of taxes are as plain as the nose on my face.
Apparently, Carl Gibson sees it too, and has taken it upon himself to kickstart USuncut: Targeting Corporate Tax Dodgers.  Carl will join us in the first hour today to talk about the USuncut first day of action, scheduled for next Saturday, February 26. So be prepared to learn how to walk like a Wisconsinite/Brit/Egyptian this morning!
In hour two, I'll be joined by Crooks and Liars founder/publisher John Amato, who is one of the forces behind the BlueAmerica PAC to talk about their campaign against GOP hypocrites regarding taking government health care.